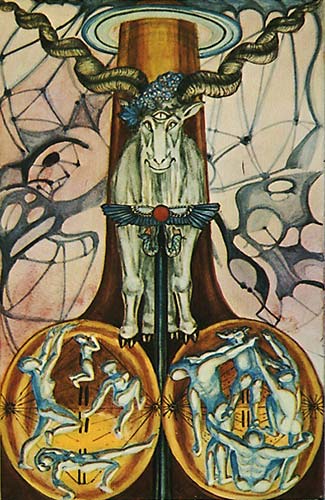 The Devil represents one's shadow side, the aspects they try to hide or deny. Through exploring the symbolism of this card, we can gain a deeper understanding of our own inner demons and how to confront them in a way that leads to personal transformation.
In readings, the Devil represents inner demons, the aspects of ourselves that hold us back and keep us trapped in negative patterns. It reminds us we have the power to break free from these patterns and create a better life.
The Devil card can be seen as a call to confront fears, desires, and insecurities. It challenges us to confront parts of ourselves we may be ashamed of and to accept them as part of who we are. Only by acknowledging and integrating one's demons can we master them and move forward with purpose.
In everyday life, the Devil card is a warning against temptation and bad influences. It can also represent the need to break free from unhealthy relationships or addictions. The Devil reminds us we can overcome these obstacles and learn discipline.
Questions to Consider
In what ways do you feel limited?
What fears or insecurities are holding you back from reaching your potential?
How can you learn to master your inner demons?
Exercise Ideas
Write down negative thoughts or beliefs that hold you back, and then cross out the words and write the opposite words in their places. Then burn the list as a symbolic upload.
Create a collage representing the life you want to create for yourself, free from the limitations of your inner demons.
Practise mindfulness and meditation to cultivate awareness of your thoughts and feelings, and learn to observe them without judgment.
 
 
 

Surrealist




Diary



| | | |
| --- | --- | --- |
|   |   |   |
| bifrost | Langustl | Rider-Waite |
Variations of the Card
The common theme among versions of the Devil card is imprisonment. According to Gnosticism, the material world is a profane underworld that reflects a perfect heaven, sort of like how a prison reflects a society. And the Devil would have you believe that the soul is terrestrial in origin. In Waite's version, Adam and Eve from the Lovers card have been ensnared by the serpent, as the Devil now binds them to an imperfect existence.
Langustl's Devil is the most recognisable version here, and it's the only card here that has hellfire. Langustl's twist makes the reader the Devil's cuffed slave. It almost begs the question; could the Devil and his slave be one and the same?
In bifrost, the Devil is considered an important facet of every personality. Using Anton LaVey's Jung-inspired methodology of breaking down the personality into three layers, the inverse of the core self, sometimes called the anima, is the Devil. This is the side of a personality that is fulfilled in relationships with individuals of the polar opposite type.