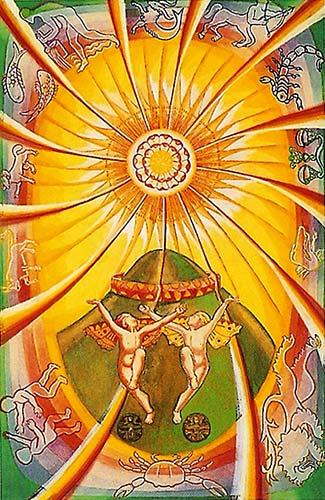 The Sun card is a radiant and uplifting symbol of positivity, happiness, and success. The card represents the warmth and energy of life itself. Despite its optimistic nature, the Sun card is often seen as a symbol of good fortune and abundance.
In tarot readings, the Sun represents a deep sense of inner joy, fulfillment, and contentment. It signifies a period of growth and transformation, where hard work and effort are paying off. The Sun card reminds us that even in challenging times, there is always hope and the promise of brighter days ahead.
In everyday life, the Sun is a reminder to focus on the positive and to enjoy the simple things. It encourages us to approach problems optimistically and to believe in our abilities to overcome obstacles. The Sun card also reminds us to celebrate our achievements, even the small ones.
Questions to Consider
What areas of your life bring you the most contentment and happiness?
How can you cultivate a more positive outlook on life?
What accomplishments are you proud of, and how can you celebrate them?
Exercise Ideas
Spend time outdoors in the sun, allowing its warmth and energy to fill you with positivity. (Remember your sunscreen.)
Keep a gratitude journal, where you can reflect on the things that bring you joy and happiness.
Create a collage that represents your hopes and dreams, allowing the energy of the Sun to fuel your creative process.
 
 
 

Surrealist




Diary



| | | |
| --- | --- | --- |
|   |   |   |
| bifrost | Langustl | Rider-Waite |
Variations of the Card
The Sun card is pretty much universally seen as an extremely positive sign in the deck – except for a couple of smart-aleck artists on this site. The standard RWS Sun shows a nude child riding a pony in front of a wall of sunflowers. Unlike the Moon beforehand, not one of the decks on Tarotsmith follows this example regarding this card.
bifrost displays Thoth-style symbolism in the Sun card. The division of the heavens by the zodiac around the Sun comes from the Book of Thoth. bifrost shows this, along with the trinity of god, angel, and devil in celebration.
Langustl's Sun appears to have scorched the sky. Beaming golden rays of sunshine fill the sky like a bright morning after an all-nighter. However excessive the light seems in the air, notice all the plants are thriving.
Surrealist turns the lights up even brighter to the point where the Sun scorches the earth. It vomits excessive brilliance onto the city like a sick tap. Diary takes one step further, showing the devastation that excess brings. Could the burning angel of this card be a victim of the solar plague in the Surrealist City? Or could this be the bearer of light burning up?